Vintage Improved Titanium Stratocaster Tremolo
What's the absolute BEST tremolo you can install on a factory Strat with just a screwdriver and doesn't alter the guitar in any way? That's the question that we started with and ended up with our Vintage Improved Stratocaster Trem. We wanted to fix as many of the original design flaws as possible but still retain that 'sound'. These are complete kits with titanium whammy bar,  stainless screws, steel springs, and our special titanium Candycane claw.
Offset String Break Angles
Leo was brilliant, but some parts of his original designs maybe weren't thought through or maybe were hindered by 1950's machining. One thing we wanted to address was the break angle of the G string. Sometimes it can sound a bit more 'dead' because the straight in-line through hole placement can make for a sharp break angle. So, we've offset that string plus the low E string. Easy peasy with a CNC mill.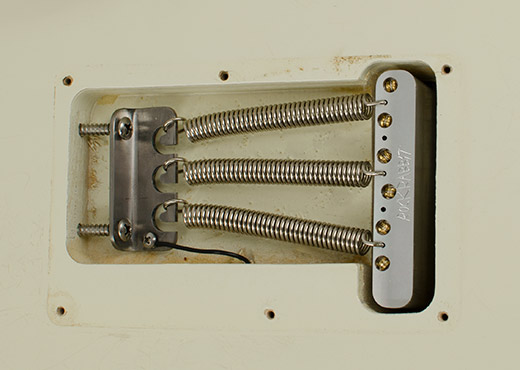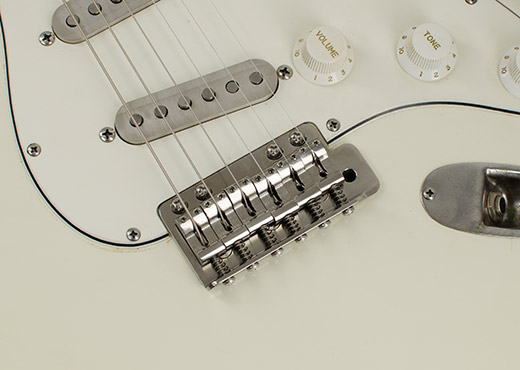 Titanium Knife Edge Pivot
Given the fact that we're stuck with 6 screw mounting holes (and we're not drilling for posts), those middle screws really aren't needed. Most techs leave those super loose so they don't bind up the trem action. So, we've omitted those two and machined a nice knife edge. And if you look closely at the titanium top plate, you'll see that we smoothly relieve the area around the screw head so the Vintage Improved Strat Trem rocks against the screw shank and not against the screw head.
Elliptical Titanium Saddles
Music is natural. What aren't found in nature are straight lines or circles. That's why we designed our own billet Strat saddle that curves the string along an Elliptical path. Then we start with a block of Grade 38 ballistic Titanium and carve them on our CNC mill. The internal threads run the whole length, so there is a much more solid support for the screws than a bent design. Sure, it's much more labor and machine intensive, but we're striving for the best here.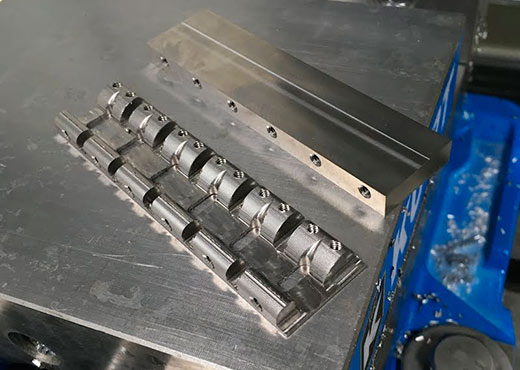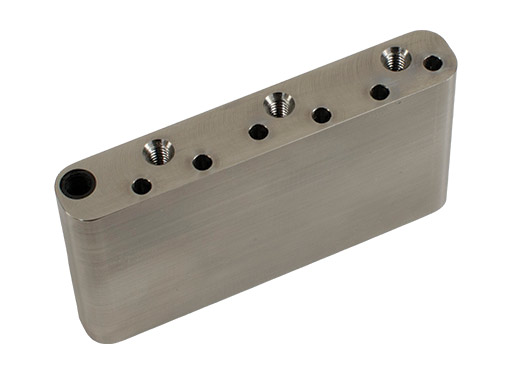 Aluminum or Titanium Block?
They're the exact same in design and both have Delrin whammy bar bushings. If weight is priority, then the 7075-T6 aluminum block will save you 2 ounces (3.35 vs 5.30oz). If you have to have all the best, then the titanium block is the coolest. As far as tone, I've believe that titanium saddles and titanium top probably make more difference than a block. We've built Basic Bitch® guitars with aluminum blocks that are fat and bluesy, not twangy AT ALL! Tone is more like making a good soup rather than just looking for a single magic ingredient.
Made in Indiana, not Indonesia
RockRabbit Guitars proudly crafts Basic Bitch guitars along with the best guitar hardware for musicians, boutique guitar builders and OEMs. Using American aircraft-grade materials, we machine premium guitar parts like titanium bridges and saddles, neck, and control plates that are ergonomically designed for maximum tone and playability.
It started in Valparaiso, Indiana in 2014 with the idea that America used to build things. Things that people actually wanted because they were smartly designed and built by craftsmen who cared. The past isn't coming back, but RockRabbit believes that it can use all the technology available to make 'Made in America' viable in a global market. We are honored to have shipped American guitars and custom hardware to guitarists and builders in over 30 countries.