Guitar Neck Insert Set
Don't let a shabby neck to body join kill your tone! A guitar neck insert is easier to torque equally than wood screws into maple. Give your neck the best connection possible to the body.
They are also great if you remove your neck a lot.  Don't worry about eventually stripping out the maple holding the stock factory wood screws. Also a great fix if you've already stripped out your neck.
They're Stainless Steel
These are the same neck insert and machine screws that we use to build our own guitars. Titanium screws are cool, but the production cost for those really aren't justified. This is a case where we can get the same tone for just a small weight increase. And a huge price decrease! 
Phillips oval head stainless #8-32 screws are 1-1/2″ or 1-3/4″ long and the matching stainless knife edge inserts are 1/4″ diameter and 3/8″ long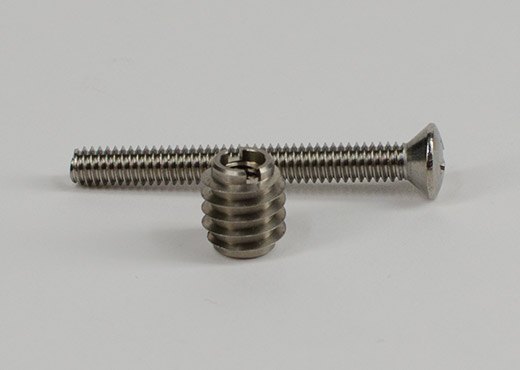 Made in Indiana, not Indonesia
RockRabbit Guitars proudly crafts Basic Bitch guitars along with the best guitar hardware for musicians, boutique guitar builders and OEMs. Using American aircraft-grade materials, we machine premium guitar parts like titanium bridges and saddles, neck, and control plates that are ergonomically designed for maximum tone and playability.
It started in Valparaiso, Indiana in 2014 with the idea that America used to build things. Things that people actually wanted because they were smartly designed and built by craftsmen who cared. The past isn't coming back, but RockRabbit believes that it can use all the technology available to make 'Made in America' viable in a global market. We are honored to have shipped American guitars and custom hardware to guitarists and builders in over 30 countries.