RockRabbit Vintage Titanium Telecaster Bridge
The Bridge Plate material is machined from an .071" American MilSpec Grade 5 Titanium, don't accept an inferior Grade 2 or import alloy; not only is this super strong and impervious to corrosion, but it's also very lightweight. The entire assembly weighs only 2.25 oz (65g), including the stainless adjuster screws and stainless springs.
Compensated Titanium Saddles
The 3 barrel saddles are Eli Grade 23 Titanium (medical version of Grade 5), vintage-sized at 5/16" diameter and compensated for intonation. Each saddle is designed for its string offset, so each one has its own unique angle and depth of machining flat. Unlike other designs that just uses the same saddles for the EA and BE saddles!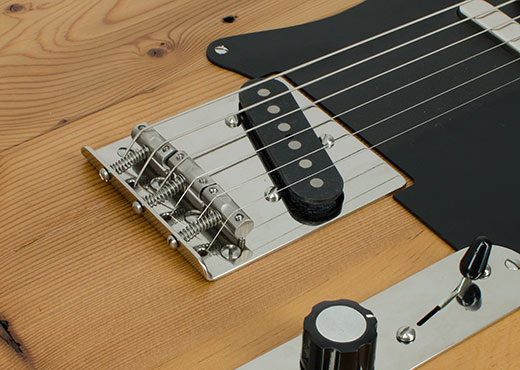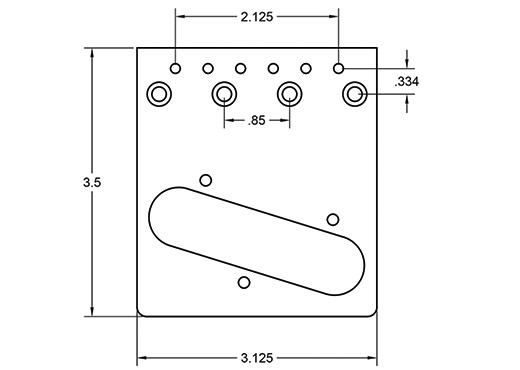 Why Titanium?
Clarity, Harmonics and Sustain are the words customers use to describe their love for Ti. Think tone like raw high carbon steel without the hassle of plating to crack, wear, or peel.
Everything at RockRabbit is machined in Indiana, USA out of Mil-spec grade materials. From raw USA Titanium or Aircraft Aluminum to finished product shipped directly to you. All the stainless screws included are made in MA and the stainless springs are made in KY.
Made in Indiana, not Indonesia
RockRabbit Guitars proudly crafts Basic Bitch guitars along with the best guitar hardware for musicians, boutique guitar builders and OEMs. Using American aircraft-grade materials, we machine premium guitar parts like titanium bridges and saddles, neck, and control plates that are ergonomically designed for maximum tone and playability.
It started in Valparaiso, Indiana in 2014 with the idea that America used to build things. Things that people actually wanted because they were smartly designed and built by craftsmen who cared. The past isn't coming back, but RockRabbit believes that it can use all the technology available to make 'Made in America' viable in a global market. We are honored to have shipped American guitars and custom hardware to guitarists and builders in over 30 countries.