RockRabbit Teletron Titanium Bridge
Our Teletron Titanium Bridge solves some issues with fitting a humbucker into your Telecaster guitar. A PAF-sized humbucker is too wide to fit into a standard Tele bridge. So, you'd need an oversized plate to cover the larger body route. And then cut your pickguard to match. If you ever decide to change back to your regular bridge, then you'll have two big holes.
We set out to make a better, purpose-designed Tele humbucker bridge. Our inspiration was TV Jones' Universal Fit pickups, which we happily recommend. Angling a Filtertron pickup fits nicely into an American Standard 3-hole plate footprint. A small amount of body routing is required, but not so much that the guitar can't be changed back to a stock Tele bridge. And it looks cool doing it!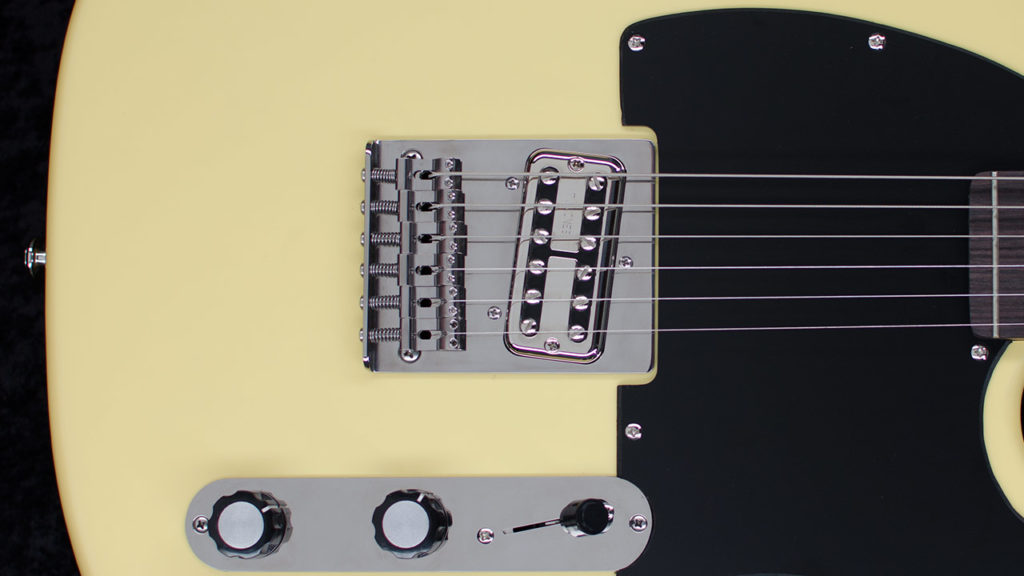 G10 Composite Chassis
Our Teletron Chassis relocates the two height screws to three Tele-style screws. This saves us some space on the sides and gives us that traditional Telecaster look. We machine these from a sheet of high performance G10 composite and epoxy the #3-48 threaded brass inserts securely. This makes a lightweight and sturdy base for your Filtertron. And most importantly, it is non-magnetic so as to not to screw with the tone!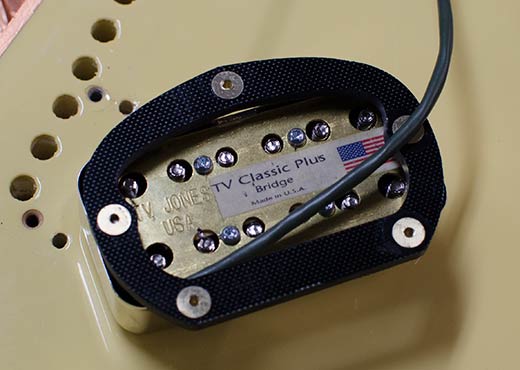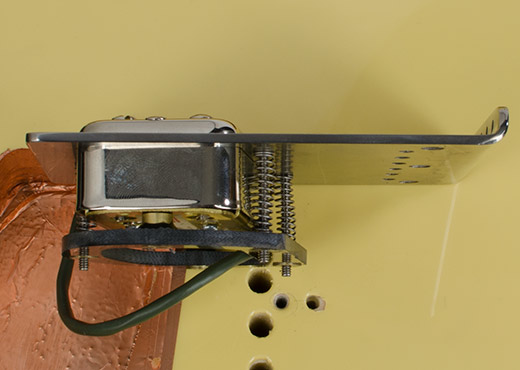 Why Titanium?
Clarity, Harmonics and Sustain are the words customers use to describe their love for Ti. Think tone like raw high carbon steel without the hassle of plating to crack, wear, or peel.
Teletron bridge plates are machined of .080″ 6Al-4V Grade 5 Titanium by RockRabbit in Indiana, USA. Why settle for lesser quality when you can get American Mil-spec grade materials?
Titanium Elliptical Saddles
The 6 saddles are carved out of a solid piece of Grade 38 Titanium, a ballistic grade of lightweight armor plate that's sometimes called 'Strike Plate'. The design is the same as our Elliptical Strat saddles, only they are machined for a 2-1/8" Tele string spacing. The strings follow a smooth elliptical path up and over the saddle and the long tapped threads make for height screws with a solid feel, not at all like the wobbly bent steel saddles that only catch 2 or 3 threads on the screw.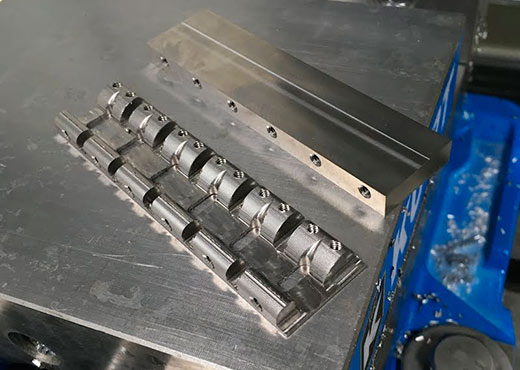 Made in Indiana, not Indonesia
RockRabbit Guitars proudly crafts Basic Bitch guitars along with the best guitar hardware for musicians, boutique guitar builders and OEMs. Using American aircraft-grade materials, we machine premium guitar parts like titanium bridges and saddles, neck, and control plates that are ergonomically designed for maximum tone and playability.
It started in Valparaiso, Indiana in 2014 with the idea that America used to build things. Things that people actually wanted because they were smartly designed and built by craftsmen who cared. The past isn't coming back, but RockRabbit believes that it can use all the technology available to make 'Made in America' viable in a global market. We are honored to have shipped American guitars and custom hardware to guitarists and builders in over 30 countries.