Super 5Way Telecaster Control Plate
The original design started because I wanted to squeeze a Super Switch into a stock Tele route. I needed an out-of-phase Peter Green tone with a pair of humbuckers without having any more switches than needed. Our Super 5Way Telecaster plate is also a great layout, with the volume full forward and the lever switch easy to flip!
Install Tips
As you can see from the pic, it is a tight fit! The Super Switch is maxed at 1 degrees angle. You'll want to bend the solder tabs for clearance. If you foil shield your cavities, like we do, then a trick is to use an old business card (album jacket liner for the mojo) and place that between the solder tabs and the conductive foil. If you're trying to stuff in a couple of large capacitors, you might want to consider using mini-pots for a little extra working room.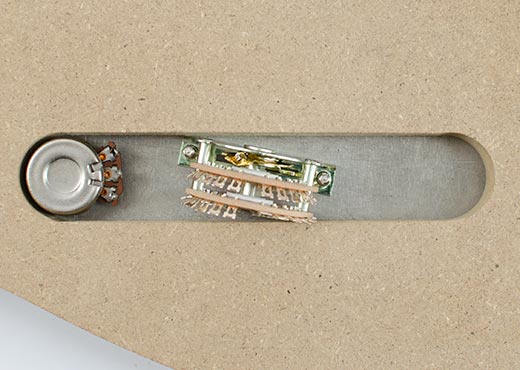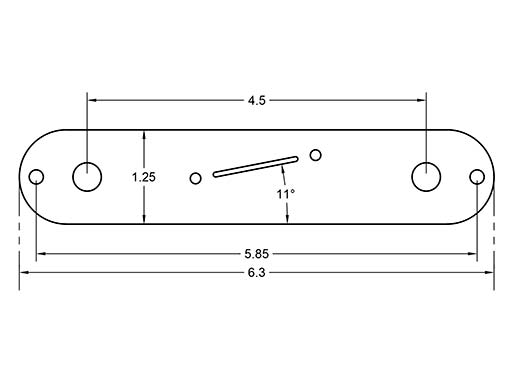 Hand-made in America
We CNC these in-house out of .063″ 7075-T6 aluminum and 6Al-4V Titanium. American aerospace alloys machined in Indiana and sold directly to you!
Made in Indiana, not Indonesia
RockRabbit Guitars proudly crafts Basic Bitch guitars along with the best guitar hardware for musicians, boutique guitar builders and OEMs. Using American aircraft-grade materials, we machine premium guitar parts like titanium bridges and saddles, neck, and control plates that are ergonomically designed for maximum tone and playability.
It started in Valparaiso, Indiana in 2014 with the idea that America used to build things. Things that people actually wanted because they were smartly designed and built by craftsmen who cared. The past isn't coming back, but RockRabbit believes that it can use all the technology available to make 'Made in America' viable in a global market. We are honored to have shipped American guitars and custom hardware to guitarists and builders in over 30 countries.