RockRabbit Mickey Telecaster Control Plate
Need a volume and switching that's simple and easy to navigate? With a slightly offset volume and plenty of clearance between the knob and switch, our Mickey Tele plate is unique and functional!
Which Switch?
Our Mickey Telecaster control plate is a culmination people's custom requests for a front volume pot shifted slightly (3/8″) to the rear and an angled 4-way Oak Grigsby switch that is moved well out of the way of their picking hand. Of course, you can fit a standard CTS 3-way switch or a Strat-style 5-way, if that's your bag.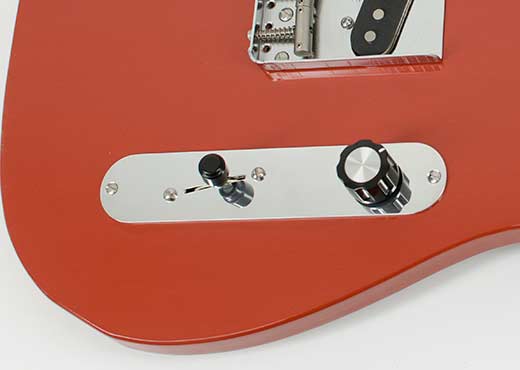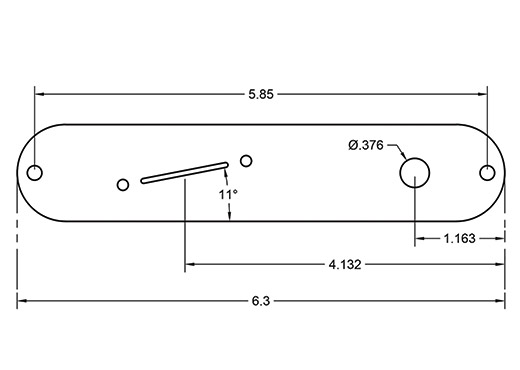 Hand-made in America
We CNC these Mickey Tele plates out of .062″ 7075-T6 Aircraft Aluminum and 6Al-4V Titaniumin house, right here in the USA, for our line of guitars and are pleased to also offer them separately. 
Made in Indiana, not Indonesia
RockRabbit Guitars proudly crafts Basic Bitch guitars along with the best guitar hardware for musicians, boutique guitar builders and OEMs. Using American aircraft-grade materials, we machine premium guitar parts like titanium bridges and saddles, neck, and control plates that are ergonomically designed for maximum tone and playability.
It started in Valparaiso, Indiana in 2014 with the idea that America used to build things. Things that people actually wanted because they were smartly designed and built by craftsmen who cared. The past isn't coming back, but RockRabbit believes that it can use all the technology available to make 'Made in America' viable in a global market. We are honored to have shipped American guitars and custom hardware to guitarists and builders in over 30 countries.