Fatboy Angle Tele Control Plate
The Fatboy Angle plate has the same spacing as our regular Tele Angle, just thicker. At .090″ thick 7075-T6 Aluminum or 6Al-4V Titanium, it sits level with your standard 3 ply pickguard. Fatboy Angle is also great if you'd just prefer a heftier version of our standard .063″ thick control plates.
Right now, this layout is the only version of the Fatboy Angle that we're machining. Just a test to see how people dig it. If this catches on, then we'll see about adding other RockRabbit designs in Fatboy versions. 
Smooth on Your Fingers
Our Fatboy Angle control plates feel great under your hand. We've also countersunk the lever switch mounting holes for extra goodness. The #6-32 oval head screws are included and match the oval head plate mounting screws.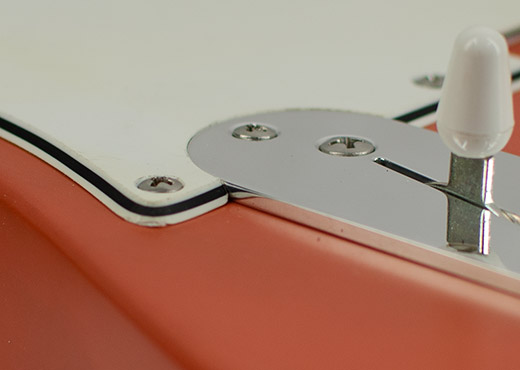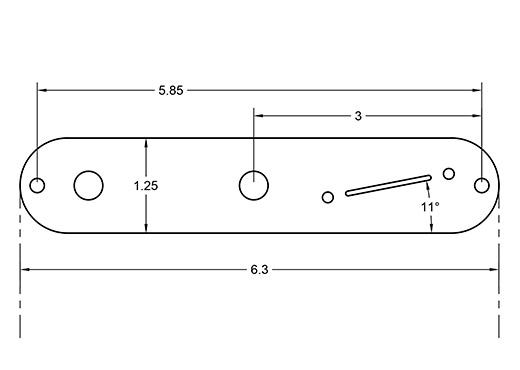 Hand-made in America
Same design and layout as our regular Angle Tele plate.
The polished 7075-T6 Aluminum or Grade 5 Titanium is .090″ thick. USA mill-certified raw material from Kaiser Aluminum and ATI. As always, machined and polished by RockRabbit Guitars right here in Indiana!
Made in Indiana, not Indonesia
RockRabbit Guitars proudly crafts Basic Bitch guitars along with the best guitar hardware for musicians, boutique guitar builders and OEMs. Using American aircraft-grade materials, we machine premium guitar parts like titanium bridges and saddles, neck, and control plates that are ergonomically designed for maximum tone and playability.
It started in Valparaiso, Indiana in 2014 with the idea that America used to build things. Things that people actually wanted because they were smartly designed and built by craftsmen who cared. The past isn't coming back, but RockRabbit believes that it can use all the technology available to make 'Made in America' viable in a global market. We are honored to have shipped American guitars and custom hardware to guitarists and builders in over 30 countries.