RockRabbit Tone Volume Angle Jag Plates
Our TVA Angle Jag plate set gives you a couple of cool guitar options. You can use a 3-way switch with a Volume, Tone and Jack for two pickup builds or Tele-style vibes. Or you could add one of our Titanium Tele Jack Cups to your build, with a 5-way switch and a Volume, Tone, and Tone in the rear plate for Strat switching and tones. 
Of course, you can always go the DIY route with the 7075-T6 upper and drill your own custom mini-switches, kill switch, or whatever you can imagine. We don't recommend drilling titanium unless you have the tools, though.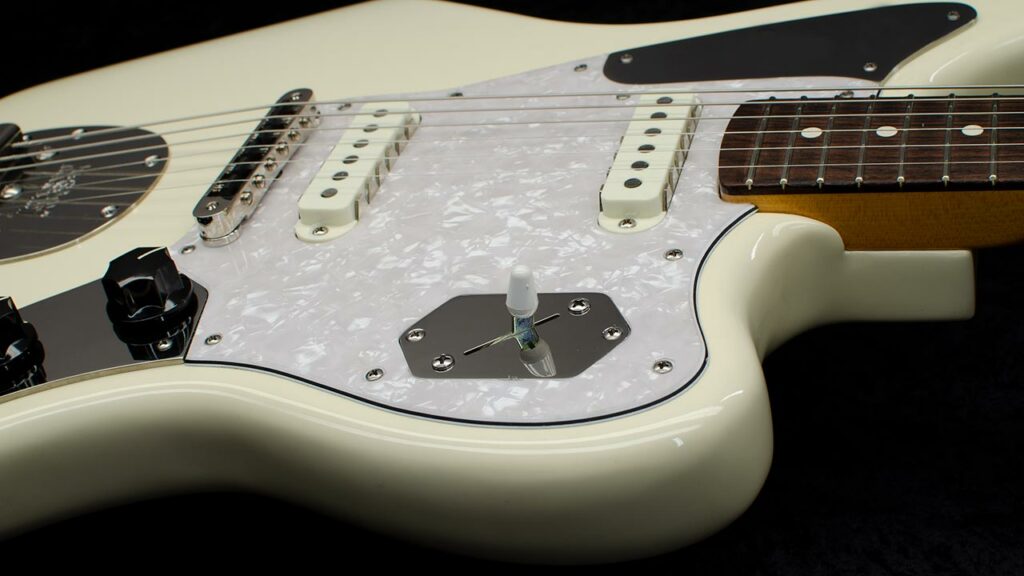 Which Switch?
The lever switch was set on a serious angle and the plates sits flush with the pickguard. This plate is shown with a Oak Grigsby 4-way switch installed in a factory Fender Jag. It is a tight fit, and the switch needs to be oriented so the solder tabs are down- to clear the wires.
An Oak Grisgby 3-way or Strat-style (single wafer) 5-way also works. You probably won't have the space to fit any sort of Super Switch or larger variant.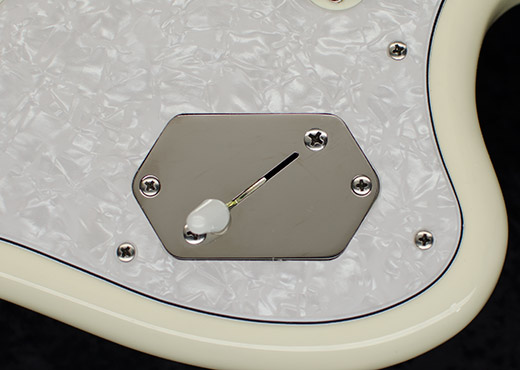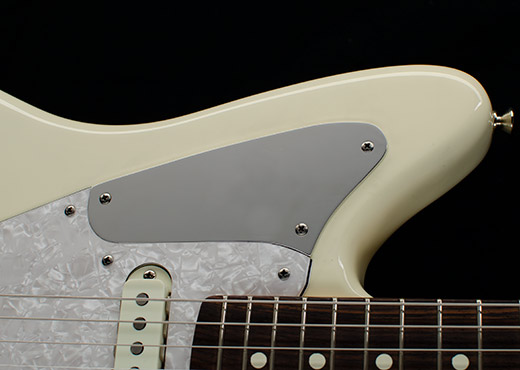 Hand-made in America
Tired of your Jaguar plates not matching up to the thickness of your pickguard? We CNC machine these TVA Angle Jag plates out of .090″ thick 7075-T6 Aircraft Aluminum or 6Al-4V Titanium in house, right here in the USA.
Made in Indiana, not Indonesia
RockRabbit Guitars proudly crafts Basic Bitch guitars along with the best guitar hardware for musicians, boutique guitar builders and OEMs. Using American aircraft-grade materials, we machine premium guitar parts like titanium bridges and saddles, neck, and control plates that are ergonomically designed for maximum tone and playability.
It started in Valparaiso, Indiana in 2014 with the idea that America used to build things. Things that people actually wanted because they were smartly designed and built by craftsmen who cared. The past isn't coming back, but RockRabbit believes that it can use all the technology available to make 'Made in America' viable in a global market. We are honored to have shipped American guitars and custom hardware to guitarists and builders in over 30 countries.