Sharktooth Damascus Tele Control Plate
Check out the cool Sharktooth Damascus pattern brought out by the coffee etch! Layers of Stainless and Steel by Vegas Forge and machined by us. A one-off piece, never will there another exactly like it.
Our first ever try at machining damascus of any sort. There is a small spot between the pots where the etch isn't quite as black. Not sure if it's an etching mistake on our part or if its something in base metal. So, that's why there's a small discount on this control plate.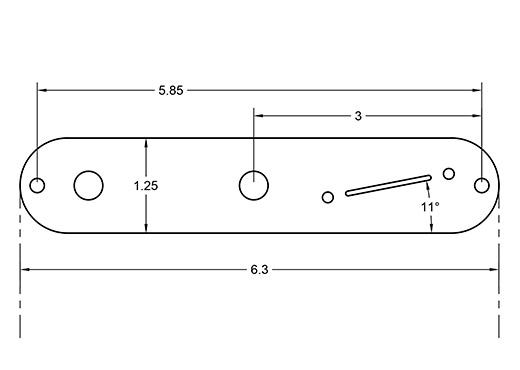 Hand-made in America
Same design and layout as our regular polished plate.
This Sharktooth Damascus is beveled like a sword to show off the pattern. It is almost 1/8″ thick at the centerline. Not lightweight at 3.2 oz, but the cool factor more than makes up for that.
Made in Indiana, not Indonesia
RockRabbit Guitars proudly crafts Basic Bitch guitars along with the best guitar hardware for musicians, boutique guitar builders and OEMs. Using American aircraft-grade materials, we machine premium guitar parts like titanium bridges and saddles, neck, and control plates that are ergonomically designed for maximum tone and playability.
It started in Valparaiso, Indiana in 2014 with the idea that America used to build things. Things that people actually wanted because they were smartly designed and built by craftsmen who cared. The past isn't coming back, but RockRabbit believes that it can use all the technology available to make 'Made in America' viable in a global market. We are honored to have shipped American guitars and custom hardware to guitarists and builders in over 30 countries.