Copper Nickel Tele Control Plate
Below, we've shown a picture of a Copper Nickel Tele plate on top and our 7075-T6 Aluminum plate under. The 20% Nickel content makes the Copper look closer to a subtle Gold. These plates are solid polished metal, no plating of any kind. 
Copper nickel alloys offer excellent corrosion resistance, especially in marine salt water environments. These various alloys also have important additions of iron and manganese, which are necessary to maintain good corrosion resistance in the harsh environments. Aside from being very corrosion resistant to sea water, copper nickel alloys are very thermally stable. Copper nickel is most commonly used in applications such as electrical and electronic products, tubes for condensers in ships and power plants, various marine products, and firefighting equipment.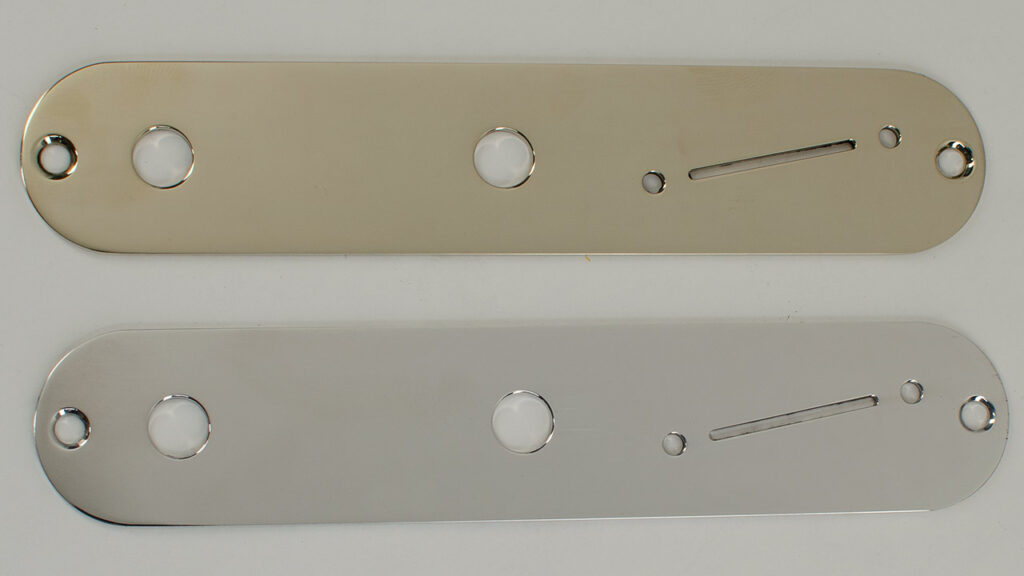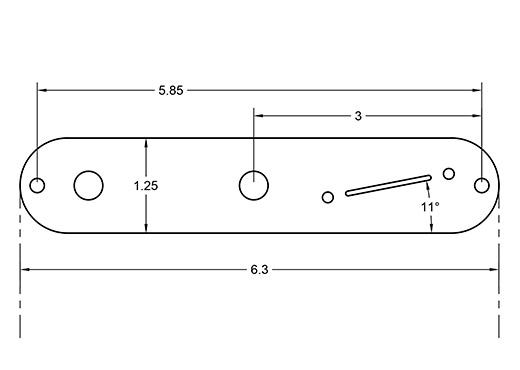 Hand-made in America
Same design and layout as our regular polished plate.
Copper Nickel is about the same weight as steel. This Tele control plate is .078″ thick and weighs 3 oz, similar to a factory chromed steel plate.
Made in Indiana, not Indonesia
RockRabbit Guitars proudly crafts Basic Bitch guitars along with the best guitar hardware for musicians, boutique guitar builders and OEMs. Using American aircraft-grade materials, we machine premium guitar parts like titanium bridges and saddles, neck, and control plates that are ergonomically designed for maximum tone and playability.
It started in Valparaiso, Indiana in 2014 with the idea that America used to build things. Things that people actually wanted because they were smartly designed and built by craftsmen who cared. The past isn't coming back, but RockRabbit believes that it can use all the technology available to make 'Made in America' viable in a global market. We are honored to have shipped American guitars and custom hardware to guitarists and builders in over 30 countries.